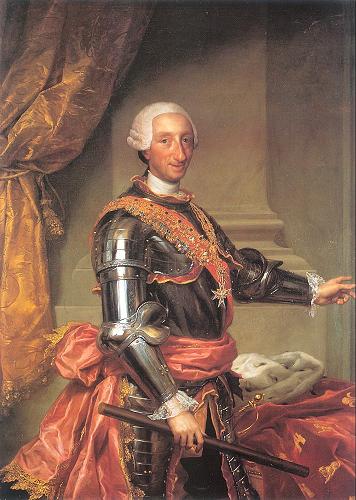 King Carlos III
King Carlos III decided a city should be founded for Spain in Alta (upper) California. The threat of English colonists migrating westward and Russian fur traders coming down by way of Alaska initiated the Mission system and established the California coast as Spanish territory. The task was eventually to begin for the recruiting of interested individuals from Sinaloa and Sonora Mexico (not called Mexico back then) to settle a city far off in the north. From a prior expedition, an area near what would become known as the Los Angeles River had been deemed a prime location for a settlement.
After traveling by foot for months, 11 families made up of 44 individuals escorted by 4 Spanish soldiers made their way northward. These settlers (pobladores) are responsible for giving birth to El Pueblo de la Reyna de los Angeles sobre el Rio Porciuncula, "the town of the Queen of Angels on the Porciuncula River." Little did they know, their humble pueblo would eventually turn out to become one of the largest and most influential metropolitan cities in the world. As they say, 'the rest is history'.
I first became aware of my connection to LA settlers from my cousin Felix Medina. He was an original member of Los Pobladores 200, an organization of descendants of the founding families of Los Angeles which began in 1981, 200 years after the city was born. He presented family members with certificates and genealogy charts detailing our lineages, but at 19 years of age I hardly had an interest in such things. I credit my wife with eventually getting me hooked after she read an article in the LA Times in the summer of 2004 about the Pobladores' annual 'Walk to LA', which was to occur the coming weekend. I read it also and realized this was the same group "Uncle" Felix used to be with. Every year LP200 honors their ancestors by retracing the same path that completed their journey on Sept. 4, 1781, from Mission San Gabiel to the LA plaza, which represents the birthplace of Los Angeles. I agreed it would be fun and I planned to take my son Anthony. Terri was pregnant with our daughter Alex and would have to meet us at the plaza for the ceremony and festivities.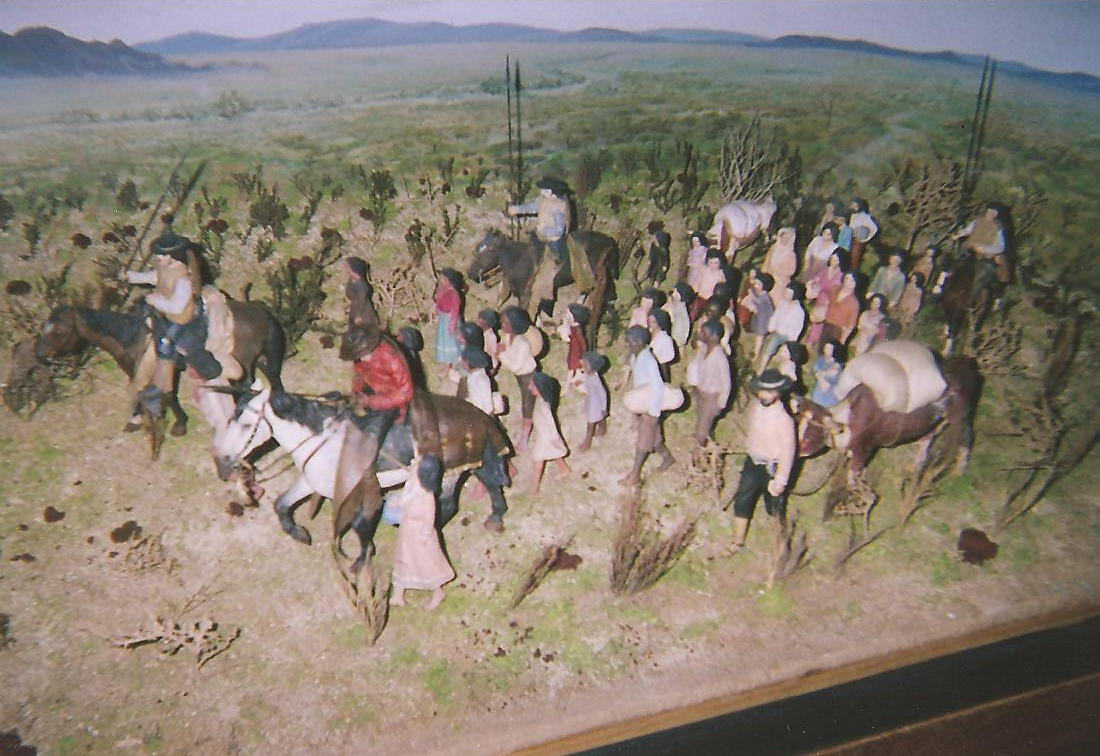 Depiction of the long journey from the Los Angeles Natural History Museum
That week I read everything I could find on the original pobladores. I discovered I was a descendant to someone by the name of Luis Quintero and that census information listed him as 'Negro'. I found information about Spain having also brought African slaves to the New World, and at one point there were more slaves south of what would eventually become the US/Mexican border. Another surprise was finding out that Quintero was also a sastre (tailor) like Felix. Quintero was the second oldest, 55, to be recruited for the journey. One thing I learned that stood out about the pobladores was that they represented the common people. They were not wealthy or of high esteem within society. They were a racially mixed group - half had African blood in them. They were descendants themselves of the racially mixed people that began to populate early Latin America as the mixing of races was common practice for European Spaniards, in contrast to Anglo Americans who'd come to force the native peoples they encountered onto reservations. It's interesting that the people of the early pueblo reflect the racial and cultural diversities that make Los Angeles what it is today.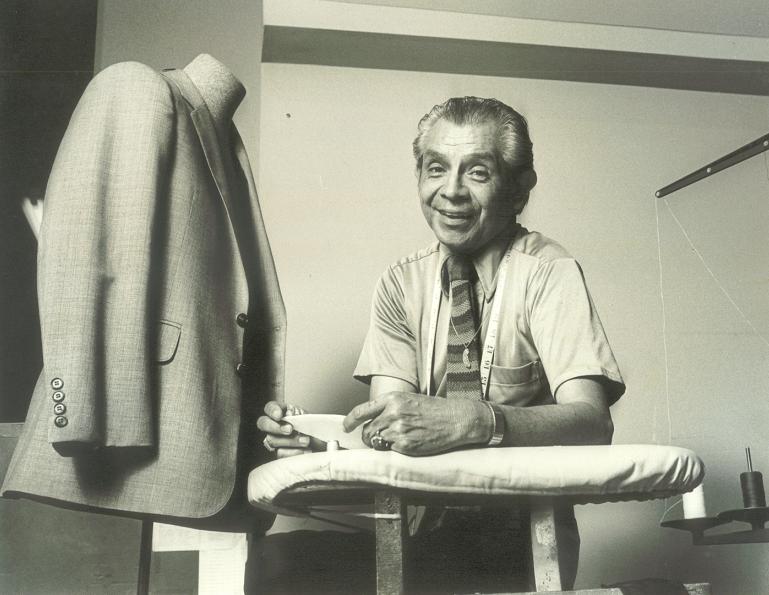 Promo pic of tailor Felix for Los Angeles Magazine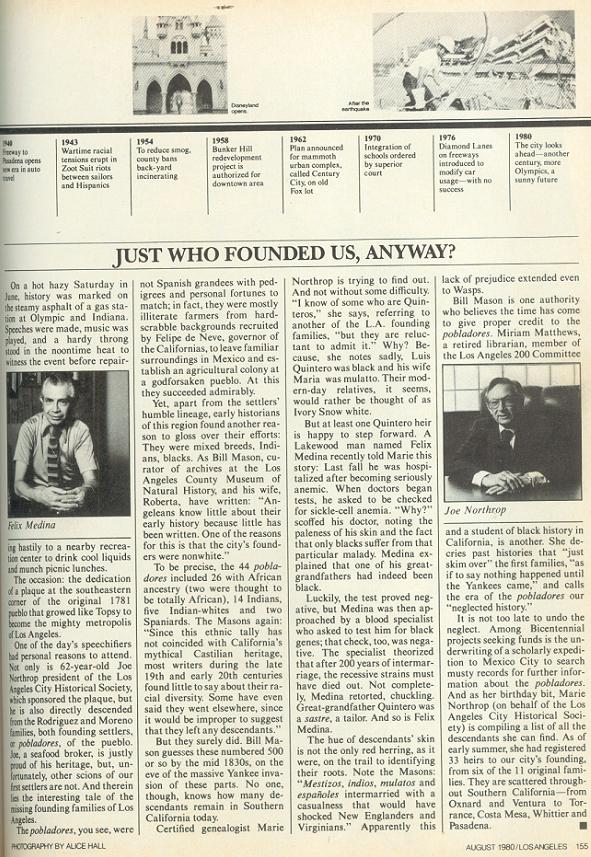 Los Angeles Magazine interview with Felix for LA bicentennial article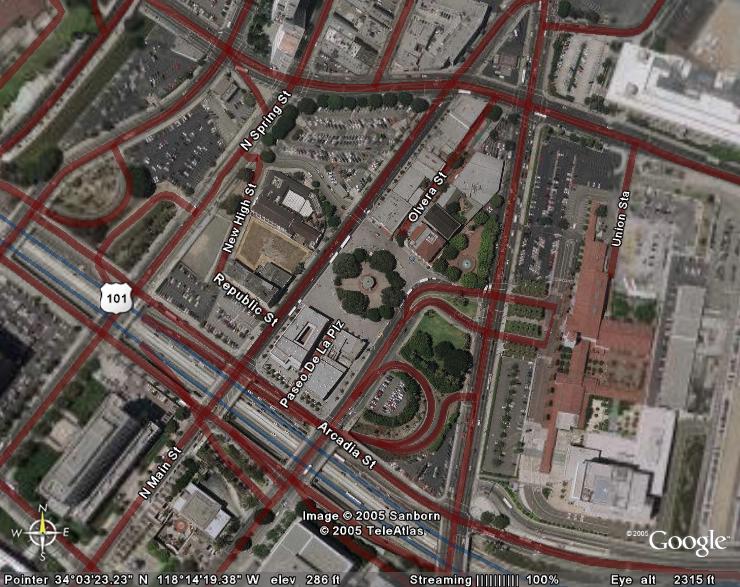 Aerial view of the plaza today
Please click here to see the official site of Las Angelitas del Pueblo